Fresh herbs in crystal-clear packaging
20.02.2017
---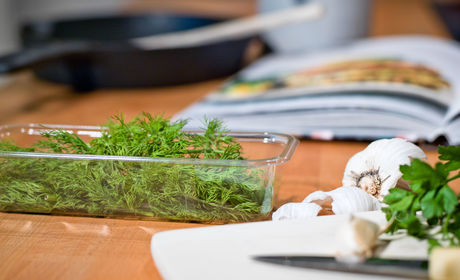 New trays made of 100% recyclable PET
Hutthurm, February 20, 2017 – Tasty garden or wild herbs are wonderfully aromatic. But they are also very sensitive, and are best eaten in top condition. Highly transparent PET packaging is the ideal solution. ES-Plastic specializes in customized food packaging solutions such as PP (polypropylene) trays, cups, lids, sorting inserts and films.
The product range has now been extended to include PET trays. Like the PP trays, they are 100% recyclable and totally unbreakable, dimensionally stable and light. The new herb tray measures 193 mm long, 77 mm wide and 41 mm high, has a volume of 408 ml and can be used to attractively present herbs such as parsley, dill, rosemary, etc. Each of the two long sides has three soft waves, which as well as looking good also increase stability. Optional separators can be incorporated if two or more different herbs are to be packed separately in a tray. Where required, the format can also be easily customized with the help of in-house tooling.
The simple flowpack method ensures the trays have an airy and tight seal. The flowpack film is placed loosely on the PET tray during the packaging process and is then sealed at both ends and on the reverse before being cut. PET is the best aesthetic choice if a lid is preferred.
PET herb tray at a glance:
Size: 193 mm (L) x 77 mm (W) x 41 mm (H)
Colors: Preferably transparent (all RAL or Pantone colors optional)
Thermal resistance: to 70°C
Seal: Flowpack; also PET lid where required
Optional: Other shapes and partitioning on request
ES-Plastic GmbH specializes in the development and manufacture of plastic packaging solutions. The most modern computer and production technologies are applied to creating trays, cups, lids, sorting inserts and films for the foodstuffs industry. The company was established in 1966 in Hutthurm near Passau/Germany and has invested double-figure million sums in expanding this site in recent years.
Back