1000,- € for the Association of Child Protection Passau 1000,- € for Tafel Hutthurm
14.12.2015
---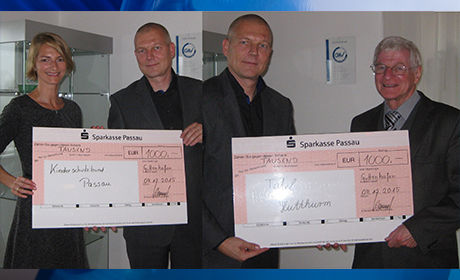 Traditionnaly, ES-Plastic donates 2000,- € also in this year.
Guttenhofen 08.12.2015
Following the motto "donating instead of giving presents", managing director Karsten Klimmeck is handing over the cheques.
The donation is distributed between the Association of Child protection Passau and the Tafel Hutthurm.
A growing number of children, individuals and families is living amongst us in poverty and more and more are reaching the subsistence level. They are not in the position to deal with their problems on their own any more and need help.
Both institutions have made this commitment their task.
Julia Stern and BRG Herbert Oberneder thank sincerely for the donation.
Photo: Julia Stern (Kinderschutzbund), BRG Herbert Oberneder (Tafel Hutthurm) Karsten Klimmeck (ES-Plastic)
Back